TWO FLOORS IN THE OLD BANK

feature tantalizing exhibits that tell Central Oregon history in detail …

THE HISTORY CENTER OPENED IN 2012

… and houses the museum's research library, community room and new exhibits.

NEW EXHIBITS REVEAL A RICH HISTORY

Wind your way through exhibits, discover how Crook County has changed …

LIVING TRADITIONS traces native peoples …

… that have shared the history of Crook County.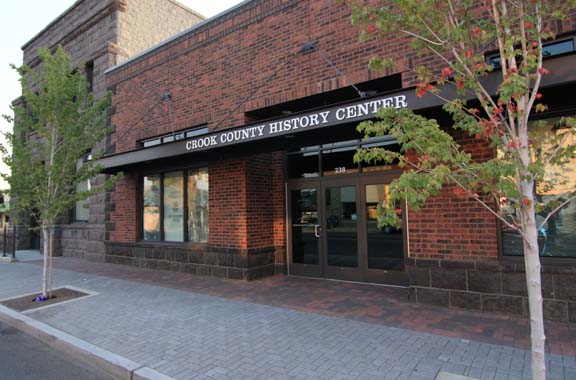 We exist to inspire, entertain, educate and involve our local community, as well as visitors from all over the world, in the stewardship of our unique history.
We serve Crook County residents and Central Oregon visitors by offering new exhibits every year. We also feature exciting speakers, area tours, historical and genealogical research assistance, annual celebrations, regular visitation hours, newspaper articles and quarterly publications.
Launched in 1971 through the generosity of the Bowman family and newly expanded through the contributions of hundreds of community members and supporters in 2012, A.R. Bowman Museum serves more than 10,000 students, scholars and visitors each year.
---
New Series Starts Feb. 5th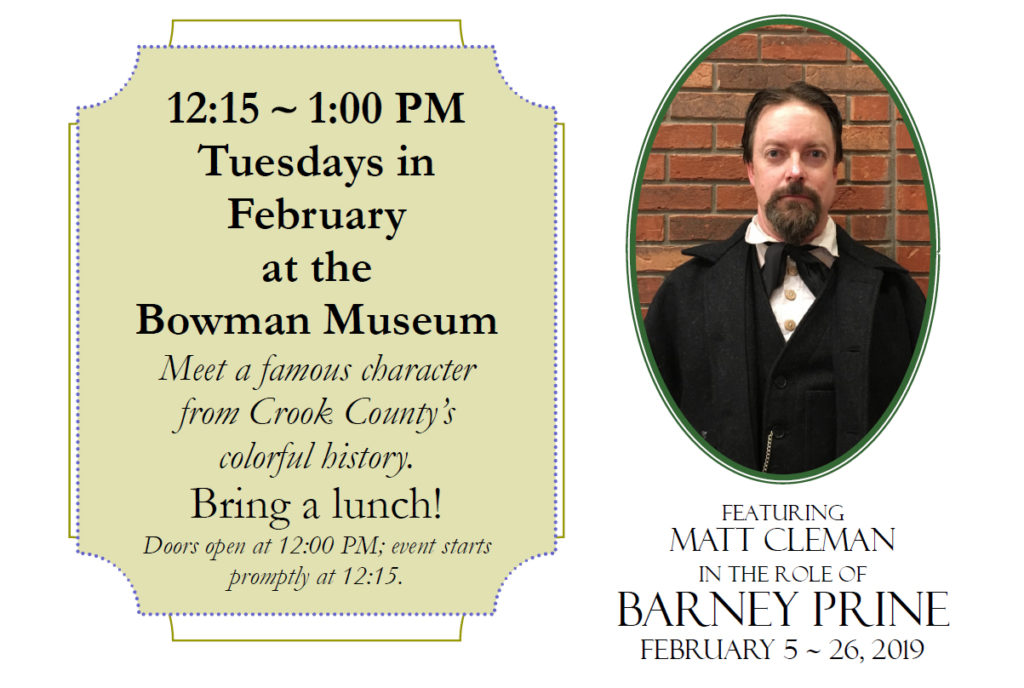 A partnership between the Bowman Museum and the Crook County Library, People of Our Past will bring a historical reenactor to the museum's community room every Tuesday from 12:00 – 1:00 PM beginning on February 5. Participants are encouraged to bring a lunch and learn about a figure from Crook County's distant past. February's programs will feature an appearance by eponymous city founder Barney Prine, as played by Sisters-based reenactor Matt Cleman. Read the full story here ....
---
---
Address
246 North Main Street,
Prineville, Oregon 97754
Hours
Winter
Tues. – Fri.
10 a.m. – 5 p.m.
Sat. 11 – 4 p.m.
Summer
(Memorial Day thru Labor Day)
Mon. – Fri.
10 a.m. to 5 p.m.
Sat. & Sun
11 a.m. – 4 p.m.
Closed major holidays & January
Admission is Free 
Donations are Accepted
Phone
541-447-3715
Research Library Hours
Tues. & Thurs. 11 a.m. to 3 p.m.
Special hours by appointment
Staff Contact: (click to email)
Museum Staff:

Sandy Cohen, Museum Director

Steve Lent, Museum Historian

Sarah Baylinson, Collections Manager
Eloise Brummer, Collections Assistant & General Info
Leslie O'Neil, Saturday Attendant